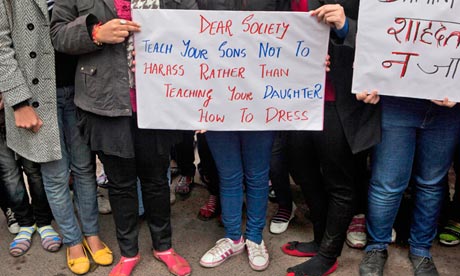 Two women are reported to have been raped by multiple attackers in moving cars in separate incidents in recent days. A third woman was robbed and then raped by two men after taking a motorised rickshaw in the satellite city of Ghaziabad at the weekend.
The gang rape and murder in December shocked the nation. Tens of thousands of protesters took to the streets in India calling for widespread legal and policing reforms as well as a wholesale shift in cultural attitudes towards women.
A series of measures – such as fast-track courts for sex crimes, harsher punishments for convicted offenders and gender training for policemen – have been introduced since the attack by authorities. The government was heavily criticised for its early lack of sympathy for protesters.
The finance minister last week announced a new fund of £120m to improve the safety and empowerment of India's women.
Police officials say the rise is the result of officers taking complaints more seriously and a broader awareness in the city of what constitutes harassment. Five men and a juvenile are on trial for the attack on the student in December, which took place in a private bus moving on crowded roads on a Sunday evening.
There are some signs of change. Jason Temasfeld, an activist campaigning against sexual harassment in India's commercial capital of Mumbai, said there had been a "drastic change" in awareness in recent months. "Women know much more what to do and about their rights. And other people are much more vocal in reacting to harassment when they witness it. Even the police are more responsive," he told the Guardian.
The victim of the December attack was dubbed "Nirbhaya" or "the fearless one" by media in India for fighting back during the assault and for recording a statement despite massive internal injuries before she died. She will be posthumously awarded the US state department's international women of courage award on Friday by Michelle Obama, it was announced earlier this week.